Fuel price increase likely as landing cost of petrol 'rises above' N145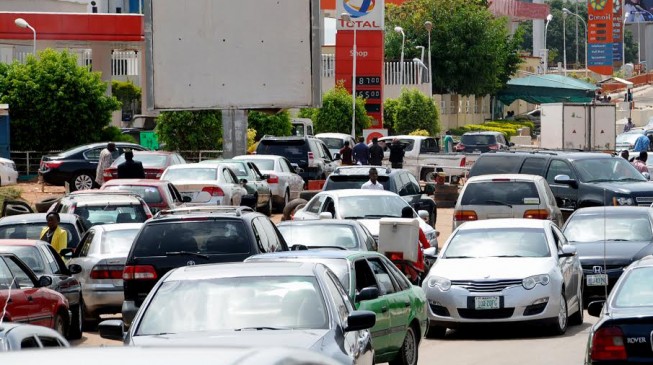 Except the government acts fast, Nigerians may have no other choice than to buy petrol above N145 per litre.
According to THISDAY, some marketers are saying it is no longer possible to sell petrol at the federal government's approved rate of N123.28, N133.28 per litre because the landing cost of the product is now above N145.
The Petroleum Products Pricing Regulatory Agency (PPPRA) fixed the rates for depots, who sell to filling stations.
The newspaper said depots, which had stock during the weekend, are now selling between the prices of N136 and N141.
Marketers are complaining that they have been unable to import petrol with the N305 per dollar foreign exchange rate provided by international oil companies.
Some of the marketers said 90% of the petrol distributed in the country is imported by NNPC because the exchange rate provided to them is no longer sustainable.
"If you collect foreign exchange from an IOC and import petrol for instance, you are going to land it at N145 per litre," a marketer was quoted as saying.
"If you land it at N145 per litre, you cannot even sell it because our official ex-depot price is N133.28. So, if you land product at N145 and if you have to sell at the ex-depot price, which the DPR is obligated to enforce, you can see that nobody wants to touch the forex provided by the IOCs.
"It is no longer sustainable- it is no longer feasible because we land it at even more than N145 per litre. If you are unlucky and you accumulate demurrage, you might land it at N148. That is why no marketer is importing now. We are dependent on product imported by the NNPC, which I said is not sustainable."
Chris Igwe, chief executive officer of Mainland Oil and Gas Company Limited, said the government has the options of salvaging the situation by liberalising the downstream sector or selling dollars to marketers at N240.
"That way, there will be steady availability of product in the market. Or government should come by way of subsidy and give us foreign exchange at subsidised rate," he said.
"If we are going to import product and sell at official ex-depot price, government should sell dollars to us at N240 per dollar if they expect us to import products and sell at official ex-depot price.
"Marketers have got their hands burnt many times. When they go and take money from the NNPC or an IOC to import and they land the product at a high rate and DPR will come and force them to sell at official ex-depot price and the marketer will get his hands burnt.
"No marketer wants to continue because you go into business to make profit. Even to borrow money and import petroleum products today is not an option because the liquidity problems of banks have made them to increase their interest rates. So, if you borrow to import or pay the NNPC for allocation of petrol, you will find out that you are just working for the banks.
"We need government to seriously come to our aid by paying us the mature LCs that has run into over one billion dollars – yes, the whole amount owed marketers by the government is over $1 billion.