My humiliating ordeal as a slave in Oman —22-year-old Nigerian girl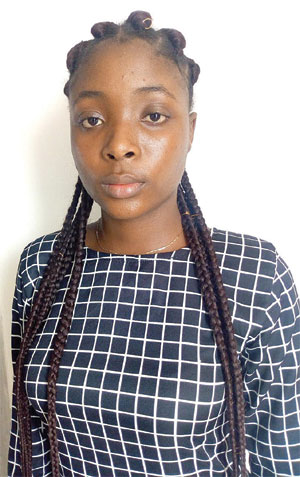 Damilola Falodun
The quest for greener pastures abroad by some Nigerian youths is on the increase despite calls by concerned citizens to desist from such practices. The aftermath of such trips, orchestrated by touts and dubious travel agents with consequential effects, is a sordid story. Many who embarked on such trips either to the point of destination or turned back, return to tell tales of bruised emotions or disorientation.
The plight of these young African girls who are lured into the belief that life is better outside the country has become an unending story. Such obnoxious arrangements – call it economic migration, human trafficking or slavery in disguise- have attracted huge derision from the general public, even with the highly placed monarch, Oba of Benin, raining curses on the perpetrators. Many people assume that the heinous trade started with foreign businessmen, but the truth is that Nigerians are either partners in crime or originally conceptualized the idea. In a true life story,
Damilola Falodun, a 22-year old native of Ekiti State is one of such victims who escaped and returned from Oman, Middle East by sheer grace. Having lost both parents in one year, a period in time when life should have been bubbling as a promising junior level (OND) student at Moshood Abiola Polytechnic, Abeokuta in 2014, things took a nose dive for her as she could not continue her education. She was in a sudden labyrinth, having no one to actually depend on as her siblings were in the same survival dilemma. Vanguard's Weekend Woman caught up with her during the recently held Queen Moremi Ajasoro cultural beauty pageant in Lagos. Her story is one case too many among others who either have died or do not know how to get back to Nigeria
Her story In the beginning I am a native of Ekiti State and live at Oluwaga area of Ipaja, Lagos State. Currently, my parents are late. Before then, my father was a businessman residing in Abia State. For quite a period of time, about seven years, I never got to see him until his death in 2014. He was separated from my mother when I was much younger, due to irreconcilable domestic issues caused by his family. Initially, he came home sparingly and after my step sister got married, he stopped coming home but ironically, he would call me especially on my birthdays to wish me well. I was 19 years old then and in school, preparing for my Ordinary National Diploma first semester exam (OND) when I received a call from home announcing that my dad was dead.
I became devastated and had to miss the exam as a result of that. My father did not survive an asthma ailment coupled with the fact that he lived alone away from home. As I was trying to get over his death, another death occurred and it was my mother, just four months after my father's death. This occurred during the start of my second semester exams. As a result, I could not sit for it and that was how I dropped out of school without any result. My mother became hypertensive and did not survive it. She was a petty business woman who had supported us with her trading even when my father was not there for us. I felt the pains of his absence but later got used to it. My mother was equally a caring person. As a petty trader, I used to hawk goods to help her out in her trading. One virtue my mother imbibed in me is to be contented with the little we have in the house. And that's what bonded us together and made us strong to overcome the ordeal of her single parenting. In her words, "Manage whatever I bring to this house and do not look at what other people are eating or doing.
You never can tell how they got it." She made sure we were all together under one roof till her death. When I stopped schooling, I didn't get anyone to help or fund my education. Life was tough and I had to look for menial jobs to sustain myself. I started to work as a customer care service person at a Multichoice outlet in Ilupeju, Lagos with my Industrial attachment (IT) letter from my school since I couldn't finish my studies. And the journey started from here While working at DSTV office in Ilupeju, I met some friends who introduced me to another job at a resort in Epe, 'Inagbe Resort' as a waitress.
From there the idea of travelling abroad to better my condition was introduced to me by these friends, Taye and Kehinde, twin sisters who were also working in the same resort. My initial idea was to gather some money and start a business and later continue with my education, but through their assumed conviction, my plan changed. According to them, it is easy to work and continue education abroad than here in Nigeria and I consented. They also told me that working abroad is hourly, that it would enable me to create time for studies. My initial country of interest was Canada but after unsuccessful attempt to secure Canadian visa, I opted for Oman in the Middle East and this happened in 2015.
The same twin sisters introduced me to a traveling agent, who was a pastor of a church. The pastor who was very frequent at the resort for business was very handy to handle the transaction without us knowing his office. We trusted and believed him because, as a man of God, everything he does would be genuine. After about two months without seeing the visa, we decided to go to the agency by ourselves only to discover that the pastor has duped us and disappeared with our money. In our bewilderment and still trying to overcome the shock, the owner of the office he used told us that since we were still interested in traveling, another option was Oman in the Middle East.
According to him, the country was in need of workers and visa processing was very fast. One of us became courageous and decided to go. She eventually left for Oman and after some months, she encouraged us to come through a coded SMS message from Oman. I was inspired, and changed my mind of going to Canada since the essence was to have a new life. Within one week, after paying the agency from the money I saved from working at the resort, the visa was handed over to me en-route to Oman. Life in the Middle East On arrival at the Oman airport, a driver was sent to pick me alongside other African girls. While on the way to their office, our passports and other traveling documents were taken from us.
We stayed in the office for about two days before we were assigned to homes to work. I was not privy to the nature of the job until we were told that the only job available in Oman for the African girls was house-help job called 'Shangala' in Oman language and prostitution. I also noticed that the reason the girl that left before us could not divulge any information to us was because every document including phone was taken from her. The only means of communication was a coded text messages under the scrutiny of the masters. Under the contract agreement signed here in Nigeria by the agents, unknown to us, communication or the use of phone was not allowed; hence it would be taken away from us. It was a two year arrangement contracted by Nigerians in collaboration with their Omanis counterparts there. The contracts were signed by the two parties secretly.
The Omani agents would pay about N700, 000 to agents in Nigeria which would be used to facilitate our tickets, visas and traveling documents. But the dubious Nigerian agents would also demand about N600, 000 from us for the same purpose already paid for by the Omani agents. They told us that our own money was what they needed to facilitate the traveling documentation which was a lie. The moment you are gone, they signed you off. This contract was an only girls' affair, boys are not allowed. Their targets were naïve young girls who showed some elements of desperation to travel abroad. They would deceive the girls that the salary was about $5,000 a month and on hearing such, any girl in need would jump at it. That was how they lured young girls into the contract. In Oman, we were told by the Omani lords in a simple language, "You are our property.
We have bought you for two years and you don't own yourself until you finish the contract." This was why our passports were taken away from us; they called it their own property until we were done with the contract. While there, you must work for at least one year before your salary would be handed over to you. Now, the irony is that, the so called masters would apply some tricks that would make you not to last for three months in a place. The moment you became frustrated and wanted to change from your home to another home, the entire contract would be canceled, and you would start all over again. Under these conditions, many girls were inhumanly treated. Some died in the process while some became perpetual slaves to the masters. The job description was horrible.
As a maid, you have no rest for a whole year. We must serve an extended home of about six to seven families. In Oman, they keep nuclear homes and each housemaid served the entire homes without rest or any holiday. Other inhuman treatments include sexual harassment, violent physical attack by wicked masters, while some would push you out to make sure you did not complete your contract. Moreover, every salary you work for before the completion of the contract would be paid in advance to the agents in Oman.
You can only have access to your salary when you complete a contract with a house. Information about work condition was kept secret and you dare not use their phone in their absence. The experience was horrible. Work experience in my first contract My first work experience was in a home at Nizwa city, Oman – a family of five children with a little child to babysit. The wife worked and catered for the family while the man stayed at home doing nothing. I became vulnerable to the idle man in the house. I was harassed sexually every moment the wife went to work and he would not allow me to concentrate on my job and at the same time threatened me with all sorts of things.
The ordeal continued everyday on a daily basis, although he did not succeed but I was troubled emotionally and he threatened to extend my contract if I did not consent to his request. As we were not allowed to have phone of our own, I tried to device means of getting a phone to use knowing fully well that the only way I could get out of this situation was to communicate with anybody outside the city or country who could hear me out. With the little money I saved secretly, I managed to acquire a small phone that I always hid inside my undies for fear of losing it to them. While his harassment continued, I thought of using the phone to make just one minute video clip of his sexual moves.
That was the only way anybody could believe me because as a foreigner and as a housemaid in a country where English language is not spoken, it may result to a case of frame up and you might be killed. So many girls have been killed without trace because there's nothing like communication or a community gathering of foreign workers in that land. On one fateful day when the wife left for work, he noticed that I was alone in the kitchen and began to advance towards me without his clothes on. Instinctively,
I placed the phone on video recording without his knowledge. As he approached to get hold of me by force, I pretended to be helpless, pleading with him to spare me. He became more daring when he observed that I am not putting up any resistance to shove him off. While he grabbed my hand, still stark naked, the video recorded everything and within ten seconds of struggle with him I cleverly pushed him down and ran out of the house with the phone unknown to him. At that moment, he became angry and went upstairs to plan how to get rid of me. I stayed at the gate until the wife came back from work.
When she saw me on arrival, I didn't let her ask me a question before I told her to take me back to the job agency's office. My intention was not to disclose anything to them because if they knew, they would manage the situation to suit themselves and eventually get rid of me. I kept mute until I got to the office, narrated the whole ordeal and showed them the video recording of what transpired in the kitchen. They were all surprised and asked me how I managed to do that. I pretended to be naïve and answered that I didn't know where the courage came from. I stayed with the agency for close to two weeks before I could get another suitable family to work with. Then, how did you manage to find your way back home under such tight situation? When the situation became unbearable,
I started thinking fast on how to wriggle myself out. One day I decided to tell the new family I worked with that my parents died. Although, since I knew they were dead and long gone, I did not have any sense of guilt using that to pave way for me to come back home. Funny enough, they became sympathetic but at some point, played down on it and asked me to stay and adopt them as foster parents. When I refused, they became hesitant to let me go claiming my contract with them had not ended. I then told them that it was a strong tradition in my place that female children must bury their dead parents and if I didn't see my parents' corpse, I would die. It was really tough as they could not agree.
They communicated with the agency to hold me in the office for some time just to know if I would change my mind. When they noticed how adamant I was, they eventually accepted and that was how I found my way back home. I was very desperate to return to Nigeria because stories of missing black girls or dead ones found on the streets became a daily occurrence. These girls according to reports were beaten to death, maybe while trying to escape inhuman treatment or not consenting to sexual harassment. My coming home was a privilege because it seemed as if God gave me another chance to live. Who funded your ticket back home? I communicated with a family relation living in the United States who had wanted to take me out before when my mother was still alive. When she got to know about how I was suffering in Oman, she quickly responded and sent a ticket to me. When I told the agency that I had a ticket to travel home, they were initially hesitant but they eventually brought out my passport and cancelled Oman Visa in it.
They then took me to the airport and handed me the passport at the point of exit. They did that so that I would not change my mind and return to Oman to live as a free person. Of all the girls staying in Oman, no one had her passport with her. The agency keeps each person's travelling documents until they are done with you. It's such a humiliating experience. I came back to Nigeria in May 2017 after spending about two horrible years in Oman. While I was there, I noticed that all Arab countries treat young black girls the same way. They will not let you have any decent job even when you are qualified for it.
They see us as objects for sex and maltreatment. How were you received when you returned? In the first place, I was very grateful to God for sparing my life over there. Since my family was poor, they did not know what I passed through. I purposely did not want them to know because everyone was battling for survival too. I came back and quietly went to a senior sister's place for a good rest I never had for the two years I stayed in Oman. Did your siblings not expect gifts from you? Maybe they did but before then, I had sent some money I gathered through the meager salary to them. I knew I would come back like this, so I decided to send ahead the little I had so that their expectation would not run high. It was later that I told my sister all that happened. What did you do to integrate yourself back into the society? I stayed with my sister while planning to get myself back into the society.
In the process, I heard about the Queen Moremi Ajasoro beauty pageant. I had known the Kabieyesi, Ooni of Ife from a distance because he owns the Inagbe Resort where I worked before I left for Oman. I applied for the competition and was selected after the audition. All these to me were by the divine mercy of God who has been faithful to me. I purposely applied for this contest with the hope that if I win, I would use the office to expose the challenges young girls and women were passing through in foreign lands in search of elusive greener pastures. I was ready to voice out the inhuman treatment of black girls in Arab countries.
They are killed for being loyal. Some are helpless and do not know how to return home from a country where nobody can hear their voice. Syndicates in Nigeria are collaborating with their Arab counterparts to sell their own sisters without shame. We are called slaves by these masters who cunningly pay for the tickets in advance to entice unsuspecting ones. The free offer to travel abroad and make big money to pay back is not genuine. Our young girls become vulnerable to many horrible ordeals abroad because of their desperation to travel abroad. I was a victim due to the circumstance I found myself in as an orphan. I couldn't finish my education in the country because no help was coming from anywhere and due to the kind of upbringing my mum subjected us to, I found it difficult to openly seek for help. That was why I opted to try my luck abroad and in desperation,
I went to a wrong country. So, how were you discovered? After passing through the beauty contest audition, we were taken to a camp for preparation for the final pageant. In-between the many programmes streamlined for the final stage, personal interviews were one of them. While I passionately told my story to the coordinator of the pageant, Princess Ronke Ademiluyi, she developed interest in me immediately. She went further to alert the Ooni, kabieyesi about my story and later championed the cause for my proper integration into the society. Although, I couldn't make it to the finals of the competition but grace of God found me when kabieyesi became interested in my case and offered me a scholarship to help me get back to school. In clear terms and as rightly enumerated by Princess Ronke Ademiluyi during the beauty pageant, part of the overarching mission of the Queen Moremi Ajasoro was to salvage unending migration of innocent young Nigerian girls into an unknown world as victims of human trafficking and forced prostitution.
She took over my rehabilitation. As part of the overall core values of the House of Oduduwa Foundation, I am currently enrolled in the Nigerian Open University, Abeokuta Campus. I am at the 100 level studying Entrepreneurial studies under the Ooni of Ife's scholarship scheme. After I leave school, there will be more opportunities for me like the fashion training, entrepreneurial and empowerment programmes and other things.
Did you at any time look for the pastor who duped you in the first place? There was no need for that because even before we left, he had disappeared. He worked using a fake name likewise many of them and did not have a permanent place. As for the second agent that facilitated the trip, it was a woman without a face as well. We learnt she worked with syndicates in various African countries, Tanzania, Zimbabwe, Ethiopia and some West African countries. For all the girls that we met in Oman, they tell similar stories of how the same woman connects them to Oman.
As I speak, she has remained faceless. The Shelter Heart of the House of Oduduwa Foundation Princess Ronke Ademiluyi is the founder of African Fashion Week Nigeria & London. She also doubles as the coordinator of Queen Moremi Ajasoro Cultural Beauty Pageant and runs an NGO that is passionate about victims of human trafficking. While lending her voice to the story of this discovery, she said, "The house of Oduduwa foundation is an NGO that was founded by his imperial majesty, the Ooni of Ife.
They are the owners of Queen Móremí Ajasoro which includes the pageantry as well. She was discovered during the Queen Móremí Ajasoro pageant competition. I was touched as she narrated her ordeal in Oman. We took her case to the kabiyesi under the Oduduwa foundation and he decided to sponsor her to university. She is in her first year in the Open University and all her expenses are being taken care of by the Ooni of Ife through Queen Moremi Ajasoro which is under the house of Oduduwa foundation.
"Looking at her case, it is not her fault. A lot of young girls in the country are looking for greener pastures for better lives. And when you have a lot of agents who mislead them, dupe them, telling them, you can go to school and work without telling them the consequences, that is where the problem is. QMA can't be quiet about this cruel phenomenon of humanity which is equally receiving global attention. We are restrategising, increasing our national advocacy campaign and building global collaboration that will enable further empowerment for young women, build productive assets and businesses, improve their economic resilience, improve child health and food security, and inspire others to do the same.
We will be talking to community leaders, and traditional leaders to educate them, and counsel them on the consequences of such movement of traveling abroad. Even parents as well will be able to educate their children. Right now an agent will tell you to bring 600,000 to facilitate your easy travel abroad to work and make more money which is a lie and no one has come back to tell them how it is over there. "For kabieyesi, Oba Enitan Adeyeye Adewusi, he is so passionate about youths. He will make sure there is better life for them, supporting the youth in Nigeria to refrain from seeking unrealistic pasture abroad. That's why he has bought into the idea of 'Say no to slavery' campaign. Queen Móremí Ajasoro is initiated under the Oduduwa Foundation and he has pledged his support to educate the victims.
STAY UPDATED WITH infinityprods.blogspot.com
Contact: Infinity Productions

Call/whatsapp:

+2348178672673




FOR YOUR ONLINE




Music,Videos, Mixtapes/ Event promotions


Album marketing /video shoot & lots more

COMMENT and SHARE